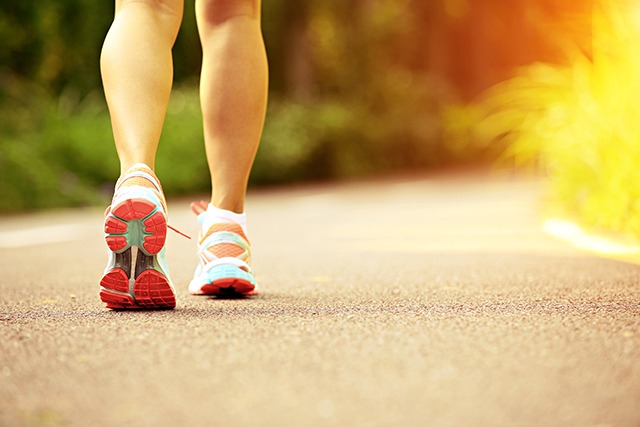 Chicago is a runner's oasis with scenery, skylines, and a variety of terrain to get miles in. From quick loops in the middle of the city to tougher terrain in the suburbs, there are plenty of choices for runners of all skill levels. Here are 11 running trails inside Chicago and in the surrounding suburbs so you can get into nature and enjoy some exercise while you're at it.
Lakefront Trail
Enjoy the scenic skyline of the lake and city on the Lakefront Trail. With a distance of over 18 miles from Ardmore Street on the north side to 71st Street, you can pick your favorite starting and ending points while enjoying beaches, parks, and neighborhoods along the way. The easy difficulty level from the flat terrain makes this popular for walking, running, or biking among Chicago's outdoor lovers, especially in good weather.
Waterfall Glen Main Trail
Visit Darien for a 9.7-mile round-trip loop with a variety of terrain, including crushed limestone, designed for intermediate runners and hikers. Bring lots of water in the summer as there is no place to stop once you start the trail. If you want to take a break on your run, stop to enjoy the scenery that features a gorgeous view of the waterfall.
Busse Woods Trail
This 12.6-mile trail system in Elk Grove has an asphalt path within the Ned Brown Forest Preserve. The preserve offers 3,700 acres that include lakes, meadows, and an elk pasture. This smooth and shaded trail is perfect if you have experienced a knee injury, as it's a beginner-level trail that runners of all levels can enjoy. With forests, fishing and boating waters, this diverse location is one of Illinois' best.
Gander Mountain
Head about an hour outside of the city to visit Antioch for a challenging run along a 125-foot high hill. Use caution as experts recommend this course for intermediate runners and hikers. Also, public parking is not available, but the payoff once you reach the top of the hill can be worth it.
Chicago Riverwalk
The Riverwalk takes you through the city's iconic buildings alongside the Chicago River. It's busy with tourists, yet a relaxing place to get a few miles in because of the city's beautiful skyline that surrounds you. With a 1.25-mile trail that takes you through four different districts (The Confluence, The Arcade, The Civic, and the Esplanade), you can enjoy this flat and easy-to-navigate path. This is a perfect trail for beginners who are trying to increase their endurance to one day run on longer trails.
The 606 (Bloomingdale Trail)
Experience this 2.7-mile concrete, elevated urban trail built on a former rail line located on the northwest side of Chicago. Since it sits 20 feet above city neighborhoods, this trail will appeal to all runners because it is set apart from the bustle of the city. Instead of cars and stop lights, enjoy the green space around you. Take the time to explore your city, as this trail connects three diverse Chicago neighborhoods. Public art displays make this destination attractive while distance markers help track your miles.
North Branch Trail
Connecting the northwest side of Chicago to the Botanic Gardens in Glencoe is a 20-mile trail that offers the space for a short jog or a longer training run. Since it is a mostly flat asphalt trail, it's good for runners of all levels. This trail is also part of a larger system of trails in this area, so you can choose which part you want to try first. Since this trail can start (or end) at the Botanic Gardens, you can expect a scenic beginning or end to your run.
North Shore Channel Trail
This 6.7-mile woodland path starts in Ravenswood and continues to Evanston. It may be calmer than others since it's further away from the city. It's an easily navigable path with asphalt, crushed limestone, and dirt paths along the course, making it good for runners of all levels. Views of the river are available, and there are shelters and water fountains if needed.
Des Plaines River Trail
Lake County boasts a 56.3-mile trail that spans many areas, including Oak Park. With an ever-changing terrain, this river trail offers runners the chance to experience many environments and different scenery on their journey. Expect the terrain to move from asphalt to crushed stone and even dirt and gravel in certain parts. Some of the trail is for experienced runners as it can get narrow and muddy depending on the weather. Beginners may find it easier to start on the northern part of the trail and travel south. This trail is part of a larger run that connects many Chicagoland area paths together.
Illinois Prairie Path
This 61-mile path is part of five connected trail segments that meet at Volunteer Park in Wheaton. The trail follows the former path of the electric railroad and features asphalt, concrete, and crushed stone paths. With water fountains and playgrounds, runners of all skill levels use this path. Advanced runners can try to reach new goals since the trail is long, while new runners will find comfort in the familiar amenities and smooth terrain along the way.
Humboldt Park
This park boasts 207 acres of trails, lagoons, city views, and more. The lagoon loop is a 1.4-mile trail appropriate for all skill levels because there is no increased elevation. To extend your run, you can add additional miles from the surrounding neighborhoods that offer dirt paths and fields.
Visit as many of Chicago's trails as you can to boost your endurance, but always pay attention to any issues that become worse as you run. With Chicago being such a great place for walkers, joggers and runners, use one of these convenient trails to change up your running routine. From city streets to woodland trails, there is something for you to make your next run more adventurous. Just don't forget about Romano Center if you or someone you know get injured along the way.